Whorlings
---
You decide to visit more of the Whorlings. You move on to an area where many creatures were playing, lounging, and generally going about their day.
The first critter you approach eyes you warily. Trying to seem unthreatening, you smile and say hello.
He looks you over before deciding to respond to your greeting. Drawing himself up proudly, he speaks in a clear voice to you. "Hello, Traveler. I am Tahmores. I am a Canine Whorling from the EverRealm."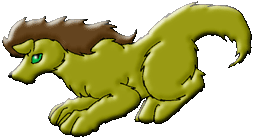 Walking a small circle around you, he sniffs your ankles and, deciding that you seem friendly enough, says, "If you like, I can introduce you to the others."
"Thank you, I would," you respond.
Tahmores takes you along the meadow to where another Whorling sat.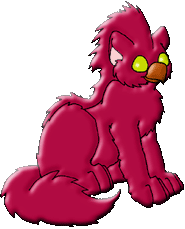 "I'm Adem," he says, smiling sweetly. "I'm a Gryphon Whorling." His large, yellow eyes suddenly go wide. "Oh, watch out!"
You find yourself pounced by a third, smaller, Whorling. Luckily, he wasn't big enough to knock you down, but he did surprise you.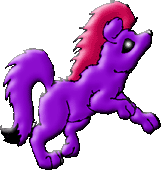 "I'm Faxon," he says. "I'm Random."
"He means a Random Whorling," Tahmores explains. "There is another over here."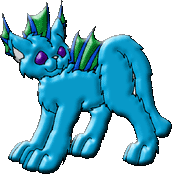 You say hello to the new Whorling, and she giggles.
"Hello! My name is Aquamarine. I'm a Feline Whorling. Have you met Usagi, yet?"
You tell her no, and then feel a soft nudge on your leg. Looking down, you see a rabbit-like Whorling with wings.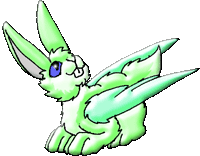 "Hiya!" she says. "My name's Usagi. I was an Easter present!"
"What kind of Whorling are you?" you ask, seeing how each had their own name.
Usagi beams. "Random! Just like Faxon."
"There is one other," says Tahmores. "His name is Varden. He is over there."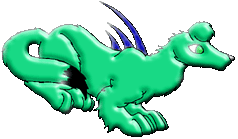 You look at the new Whorling and say hello.
Varden tilts his head at you, then returns your greeting. "I'm a Weezle Whorling," he says.
You think he seems a little shy. You say you're pleased to meet him. Tahmores then says, "There are more Whorlings this way, if you wish to meet them. You may also either return to where you came from or visit the Wris'Talorol, Tigons, Hunter Cats, Mequis, or the Wynds of Change, War, Warp, or Mage."
---
Tahmores
Species: Canine Whorling
Gender: Male
Meaning of Name: "Strong and wild dog" in Persian
*~*~*
Adem
Species: Gryphon Whorling
Gender: Male
Meaning of Name: "Red Earth" in African
*~*~*
Faxon
Species: Random Whorling
Gender: Male
Meaning of Name: "Thick-haired" in Latin
*~*~*
Aquamarine
Species: Feline Whorling
Gender: Female
Meaning of Name: Simply because she's blue
*~*~*
Usagi
Species: Random Whorling
Gender: Female
Meaning of Name: "Rabbit" in Japanese
*~*~*
Varden
Species: Weezle Whorling
Gender: Male
Meaning of Name: "Green slope" in French
The creatures inhabiting this area of the meadow are from the EverRealm.